The ZopOnline Card:
An Effective and Affordable Visibility Tool
Are you where you should be? In today's technology driven world, if you do not rank well on search engines, you simply are not reaching the bulk of your new potential customers.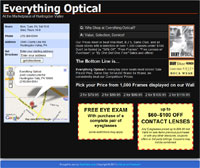 Sample Zop Online Card
At ZopOnline, we know how important it is to have the opportunity to be found when your potential customers are searching for a business like yours. The difficulty is that it can be costly to market yourself properly on the Internet, but don't worry, we can help.
We have invented a solution that almost any business can afford that effectively ranks your business information prominently so you can be found when potential customers are looking for you.
Basically, your ZopOnline Card is an online business card, only bigger and better. Most importantly, it is positioned on the screen of people who need your products or services right away AND they already have the phone in their hand!
So if you know that you may not be where you should be. Or, you are just not sure; please call 215-967-1466 today for a FREE no obligation consultation. Or email us at info@zoponline.com.
But don't take our word for it, just ask our clients...
"ZopOnline helped me introduce my business to customers I never thought I would reach"

-Stephen Martin, Owner, United Check Cashing
"ZopOnline recharged my business... They have my phone ringing off the hook again."

-Gerry Latchum, Partner, Kauffman Roofing
"Since I switched to Zop for my internet marketing my results increased dramatically and what's even better, I'm spending less money!"

-Dr. Joel Cooper, Apple Denture Center

"ZopOnline did such a great job with my website! They really brought my business to life online."


-Buzz, Owner, Buzz Duzz Plumbing and HVAC
Example Searches
Check Cashing Williamsport, PA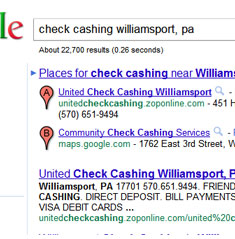 Click here to try this search!
Roofing Contractor near Flourtown, PA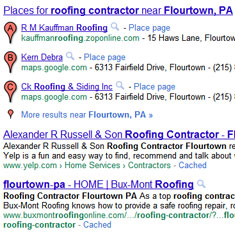 Click here to try this search!