Lawn Care Services
Another difference you'll notice
When it comes to lawn care, Moyer is Green, Clean and Foreseen. Moyer Indoor | Outdoor uses natural products. We take great pride in using this approach.
We also call ahead to let you know that we'll be out the next day to treat your lawn. No more surprise knocks on your door. You always know when our Service Professionals are coming to your home. That's why our lawn care visits are green, clean and foreseen.
Lawn Care Programs
Our programs begin by evaluating your lawn and making recommendations that will produce a lush, green lawn. Then we measure and apply only the exact amount of products to effectively produce results. Plus, as an added convenience and safety measure, we always let you know well ahead of time when we will be treating your lawn or trees. Check out the different programs we offer!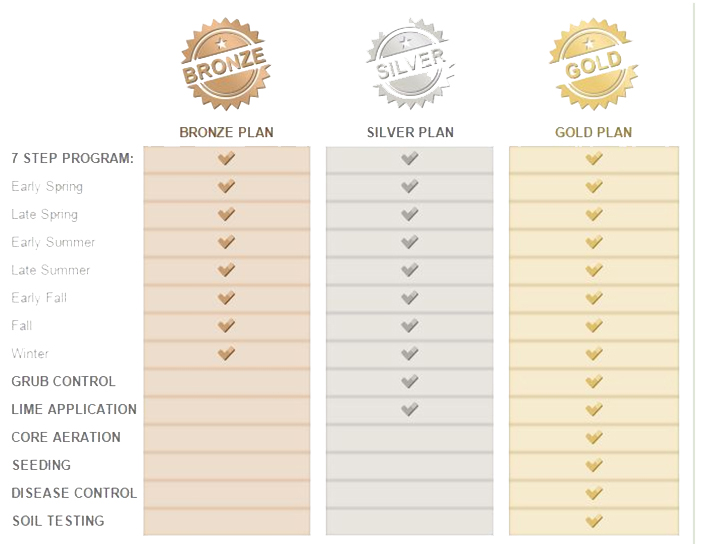 Safety and reliability are high priorities
We recognize the number one issue is safety—for you, your property and the environment. To this end, we continue to increase our focus, making sure that we are using the best natural ingredients, distributed in the safest manner possible.
As turf professionals, we know the soil and turf conditions that are unique to our region. That's why we've designed our programs to be effective in the region. We apply just the right materials, in the right amounts for your specific property and conditions.

Core Aeration, Seeding and Lime Application
What is core aeration?
Core aeration is the process of making thousands of small holes in the turf. These holes allow fertilizer, water and air to reach the root zone quicker. This results in new growth and increased root development.
These holes also open up the soil and help reduce thatch build up and soil compaction, allowing your lawn to breathe and grow.
Your lawn may benefit from aeration if:
People and pets are constantly running around and playing on your lawn.
You've recently had construction on your home or business and traffic from workers has compacted the grass.
The lawn dries out easily.
The lawn feels spongy.
Not sure if lawn aeration is a service you need? That's okay. Give us a call. We'd be happy to evaluate your lawn and make recommendations.

Seeding
Slit seeding is an excellent method to renovate weak, thin or damaged turf areas. This ensures proper "seed to soil" contact and promotes grass seed germination.

Broadcast seeding after aeration helps fill in any thin areas.

Temporary Irrigation Systems
If you're looking for a temporary irrigation system for your newly seeded or sodded lawn, Moyer Indoor | Outdoor has what you need.

We realize that an in-ground lawn sprinkler system may be a bit of overkill when really you just need a little help with watering for a short period of time. Our temporary irrigation systems work for lawns up to 15,000 square feet and do require water and electricity.

Pricing for Moyer's temporary irrigation systems varies. We'd be happy to take a look at your lawn and provide you with a quote.

Do you need lime applied to your lawn?
Did you know that acid in the soil can stand between you and a healthy, attractive lawn? If your soil ph is too low, it will hamper growth. Applying lime neutralizes the soil acidity allowing grass and plants to grow.

Bring balance to your soil
Moyer Indoor | Outdoor offers lime applications to reduces soil acidity. This enables better nutrient utilization. It also promotes a more favorable environment for beneficial microorganisms that decompose thatch.
Everyone wants a good looking lawn. Unfortunately not everyone has the time or know-how to make it happen. Healthy, attractive lawns take time and diligence. Our local lawn care experts will evaluate your lawn, apply lime as needed and make recommendations to help you get your desired lawn.
Contact us today at (215)-799-2016 and one of our trained professional can answer all your questions.
Testimonial
Quick, courteous, efficient & informative, this company has it all. Excellent service!"

Dan W.

,

Manager

Bethlehem, PA